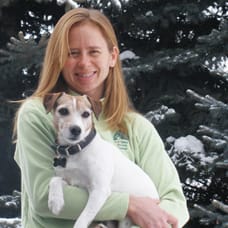 General Manager
Betsy Kauder is the General Manager at Sun Valley Animal Center. Originally from Connecticut, Betsy attended the Hotchkiss School in Lakeville. She then went on to Lewis and Clark College and The University of Montana. Betsy moved to Ketchum, Idaho in 1983.
Betsy started working at Sun Valley Animal Center hiking dogs in 1995. She was promoted to manager of the Pet Lodge in 1997. In 2000 Betsy Became a Certified Kennel Operator through the American Boarding Kennels Association and has continued to further her education through various programs. In 2013, Betsy expanded the Pet Lodge to include The Ranch, a cage-free boarding house providing excellent care to qualifying dogs.
In 2017, Betsy was promoted to General Manager, and she now handles all daily operations. Betsy continues to look for ways to provide exceptional care for the valley's pets and their people.