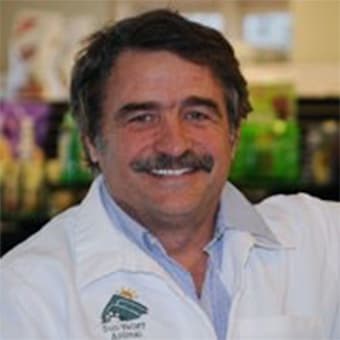 Dr. Randy Acker
Dr. Randy Acker, DVM, Veterinary Orthopedic Surgeon, and Medical Director of Sun Valley Animal Hospital, was recently featured in an article in the July 2020 issue of SVPN.
Dr. Randy Acker moved to Sun Valley, Idaho, and became the owner of the Sun Valley Animal Center after graduating from Colorado State University in 1979.  Dr. Randy Acker's focus has been on dog surgery with a particular emphasis on orthopedics. By attending multiple orthopedic courses over the years, Dr. Randy Acker has obtained the skills to achieve excellence in orthopedic surgeries.
Courses attended by Dr. Randy Acker include cruciate ligament repair (TPLO, TTA, and others), Total Hip Replacement (BioMedtrix THR, Kyon THR, Micro and Nano Hip Systems), bone plating, arthroscopy, external fixation, and many others.
An online article, written by Danielle Vigueria, highlights Dr. Acker's groundbreaking TATE Ankle™ and TATE Elbow™ orthopedic surgery for dogs.
After Dr. Acker's yellow Labrador, Tate, developed elbow dysplasia and advanced arthritis at a young age, he set out to find a solution to help his furry best friend, which would later become a revolutionary orthopedic procedure to help dogs everywhere suffering from osteoarthritis.
Contact Sun Valley Animal Center  to learn more about Dr. Acker's pursuit of pioneering this cutting-edge veterinary procedure, which has since provided a safe and effective solution for relieving arthritic pain and restoring the full function and motion of the elbow and ankle joints in dogs.