Total Hip Replacement (THR)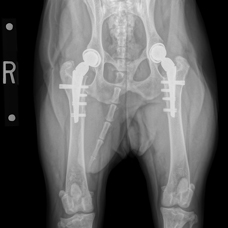 Dr. Randy Acker has been an instructor eight times at the Kyon Total Hip Replacement course. The Registry of Approved Continuing Education (RACE) program of the American Association of Veterinary State Boards (AAVSB) certified Dr. Randy Acker as an instructor for Total Hip Replacement (THR) courses. Sun Valley Animal Center has a high volume of hip replacement cases.
In Total Hip Replacement (THR) for dogs, 2 different types of surgical systems are utilized – cemented and cementless. Generally cementless systems are used at SVAC. We use both BioMedtrix and KYON systems. The THR system used is dependant upon patient size and bone quality.
The KYON total hip replacement prothesis for dogs, (locking plate and screw system) has shown clear biologic advantages, providing a more rigid stabilization, bone growth into the implant, improving long-term stability and a quicker recovery.
Until recently, Total Hip Replacement (THR) was only available for large breed dogs, such as labs. Now, through systems developed by BioMedtrix and KYON, 2 new procedures make this prosthesis available to smaller breeds.
The CFX Micro Hip System is now available for breeds, such as Jack Russells and French Bulldogs, while the CFX Nano Hip System is designed for smaller dogs, such as Pomeranians and Yorkshire Terriers (and even cats).
Dr. Randy Acker is now performing both of these procedures as well as THR for larger dogs.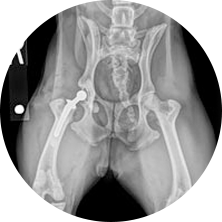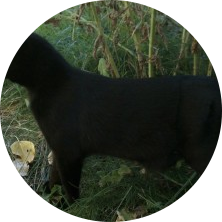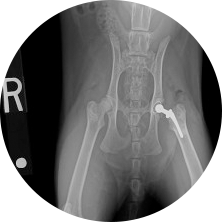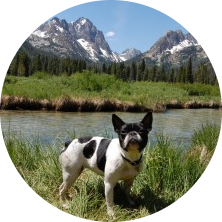 Snow Leopard "Panja"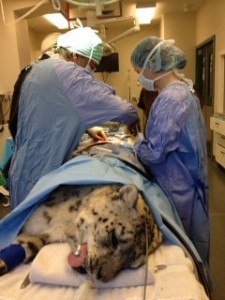 Under the care of Dr. Rhonda Aliah, veterinarian for the Tautphaus Park Zoo in Idaho Falls, ID, Panja, a 6-year-old snow leopard, arrived at the Sun Valley Animal Center on the morning of December 15 at 10 am for a Total Hip Replacement.
The 94-pound cat suffered from hip dysplasia, making him an excellent candidate for THR to relieve his arthritic pain. Dr. Randy Acker performed the pet surgery much like he has on countless Labradors, golden retrievers, and even other exotic animals.
To learn more about this secretive and rare cat, native to the high rocky mountain ranges of south and central Asia – and what conservation efforts are taking place on their behalf in zoos and in the wild, visit snowleopardblog.com