Pet Lodge Services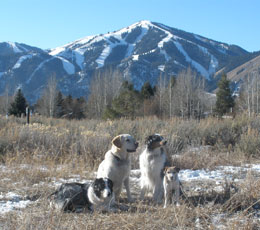 Sun Valley Animal Center pet boarding includes the Pet Lodge and the new Pet Ranch, as well as Doggie Daycare.  We offer hikes, walks, baths, and pet taxi.  Sun Valley Animal Center Pet Lodge pick up and drop off hours are Monday through Friday from 8:00 AM to 6:00 PM as well as Saturday and Sunday from 9:00 AM to 5:00 PM.  Please call 208-622-PETS (7387) to make a reservation.
Baths
By your request, we will give your dog a luxurious bubble bath. Prices may vary due to size and condition. Dog Bath: pricing starts at $40
Hikes
We offer 2 hour off leash hikes on local trails. We do require your dog to be off leash trained and under voice command.
Walks
We offer 1 hour on leash walks on the bike path along the river. We do ask that your pet is trained to walk on a leash.
Pick-up & Delivery
We offer transportation to and from your home for pet boarding or daycare.
Pet Taxi- One Way: $10
All charges for our pet lodge services are per pet.
Delivery Service for Pet Food & Medication:
Sun Valley Animal Center now offers a delivery service for pet food and pet medications.  If you would like to place an order, please call before 3 pm Monday through Friday for same day delivery. The service is offered for any location between North Fork and Woodside with a $15 delivery fee.  To place an order please call 208-726-7777.